Kurt Feneley grew up in Midla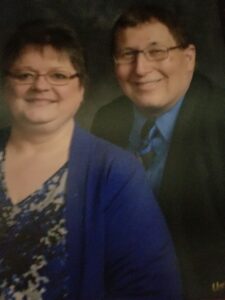 nd, Michigan about 30 miles northwest of Saginaw, Michigan.  He worked in Automotive Parts Sales, until he felt the Lord leading him into ministry in in 2000.  God's calling led him to become ordained in the Free Methodist Church, serving as Senior Pastor at the Melita Free Methodist Church in Sterling Michigan in 2003. He then moved to Illinois in 2008 where he pastored until accepting the position as Senior Pastor here at Springville Community Church in 2017.
Pastor Kurt believes that being a second career pastor helps him understand the struggles that people face today – and he preaches with this in mind.  He enjoys camping, fishing, golf, going to the races and working on old cars.  Kurt and his wife, Annette have 3 children, Matthew, Christopher and Nathan.
His philosophy of ministry comes from Isaiah 61:1. "The Spirit of the Sovereign Lord is on me, because the Lord has anointed me to preach good news to the poor. He has sent me to bind up the broken hearted, to proclaim freedom for the captives and release from darkness for the prisoners,"   He believes Jesus has sent us, as followers of Christ, to do exactly that and that He equips us to be victorious and will not fail in building His kingdom.
Below is an audio clip of a radio interview with pastor Kurt:​​